Tubular vs Pipedrive
Being a Sales Pipeline software, we are often asked about the differences between Tubular, and other providers out there. The most prominent question we are asked is,
"How are you different from Pipedrive?"
To answer the question, we do a lot differently yet we are both in the Sales Pipeline Analytics/CRM industry, so there is overlap.
We believe the way in which we present data makes it easier for business owners to make strategic decisions about converting their own sales pipeline. But our most significant differential can be explained as such. We do not believe Kanban is effective when analysing your Sales Pipeline.
For those who don't know the Kanban, it's the 1970's scheduling system that created the modern day Just in Time (JIT) manufacturing method which is known for cutting inventory and stock while increasing the productivity of workers. After the success of JIT Manufacturing, project management borrowed the Kanban model. This approach alongside GANTT charts, has become the go-to models when managing projects. Since then, the Kanban approach became the go-to wireframe when building a sales pipeline software.
We take a different approach; we believe Sales Pipelines should be presented visually rather than the Kanban approach. After all, Kanban was devised for factory floors and metres upon metres of whiteboards. Today, sales are managed via a 13-inch screen.
We believe in questioning the norm, and when designing and developing Tubular, we asked, why Sales, the fastest changing industry in the modern workplace, borrows models from 1970 lean manufacturing and inventory management when presenting your companies funnel data in 2017."
To us, and productivity-wise, the Kanban approach does not make sense when managing modern day businesses Sales Pipeline. Here is an example.
The Pipedrive overview page gives you.

– Deal Name
– Deal Value
– Company Name
– Deal Stage Value
The Tubular View Deals Dashboard: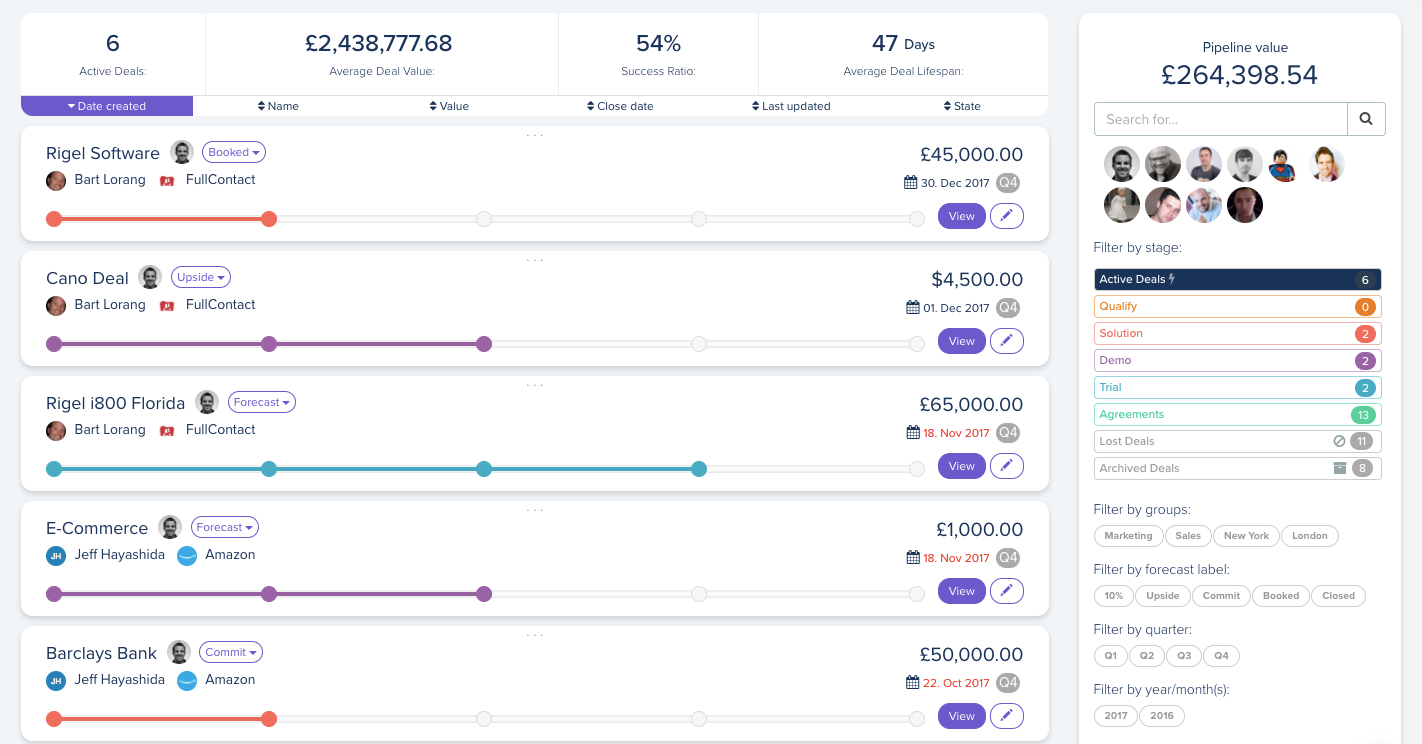 – Deal Name
– Deal Value
– Company Name
– Company Person Allocation
– Deal Stage Value
– Close Date
– Sales Agent Allocation
– Quarter Close Date
– Forecast Label
– Forecast Filters
– Team Filters
– Group Filters
Why do we believe this is better?
We believe in quick filters as opposed to cluttered, bottleneck-looking screens. Yes, the volume of deals you can see on a dashboard is limited but are you trying to play Tetris or do you need relevant stats on your sales pipeline?
With better UI (User Interface) comes a superior UX (User Experience), and with a great UI and UX, information is found quicker, training times across teams decreases, and the users enjoy interacting with their software. Let's face it; most organizations look at their Sales Software or CRM for most of their working day.
They might as well enjoy looking at it!
Reports
Have we told you that at Tubular, we don't like Excel? The interface, lack of collaboration, the saved files (Copy.copy.final.draft.xls)…it's all too frustrating.
Other products follow the Excel model. In fact, they can end up looking like Excel 2.0 on their reporting features.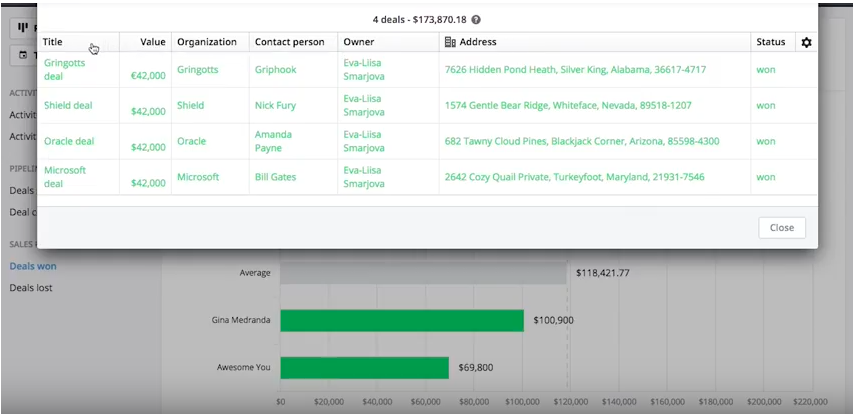 Pipedrive report with excel interface
We see reports in a different way.
We believe in instant reporting-no bars, no columns. Instead, responsive one-click reporting that provides you with the data needed to make a strategic business decision on your sales pipeline.
Want to see quarterly reports? – One click.
Deals being negotiated in the quarter – One click.
Personal performance in the negotiation stage of your funnel in that quarter – One click.
Personal performance in the negotiation stage of your funnel in that quarter, in the marketing department – One click.
You get the idea! We like simplicity without losing any of the details needed when it comes to seeing your company's sales reports.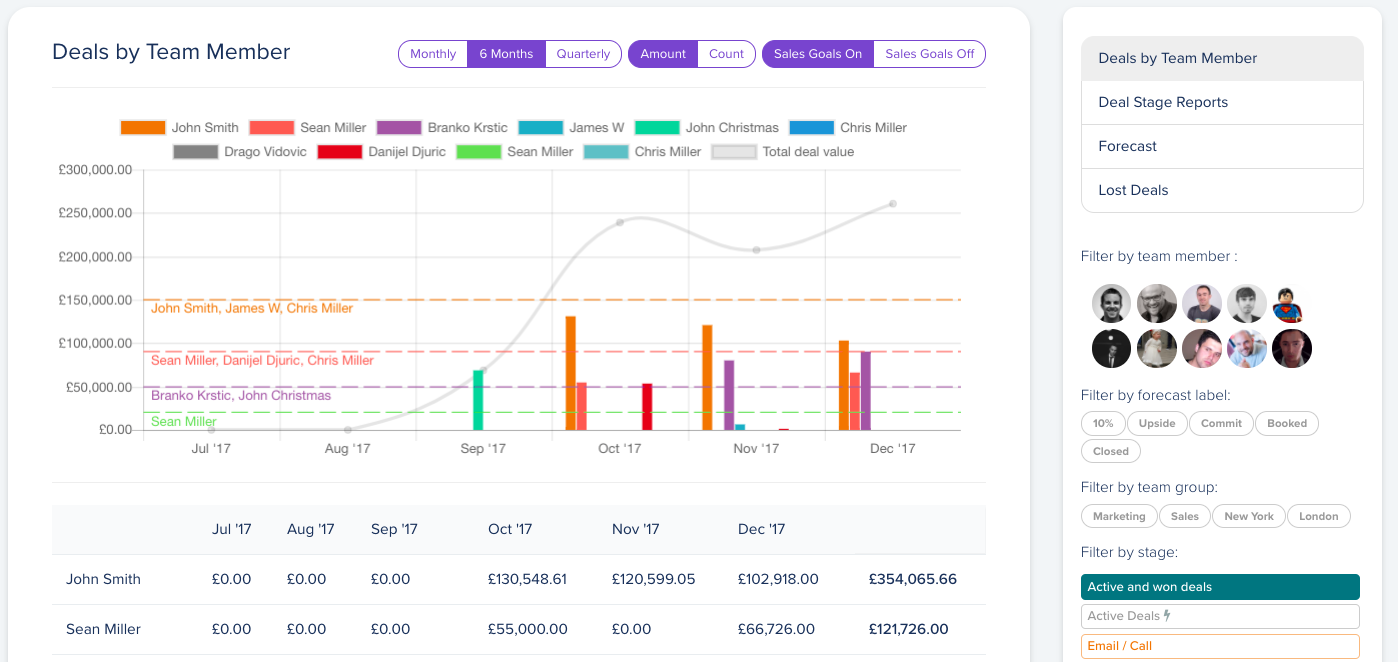 Sales Goals and Leaderboard – (Where we differ)
At Tubular, we spend hours upon hours thinking how best to present data in the format needed to motivate and engage your sales team.
We came up with our Sales leaderboard, a unique URL Link that can be sent to management or even potential investors to demonstrate how the team is progressing with goals on a monthly basis.
This unique leaderboard is interactive and updates in an instant. So, who in your firm will battle it out as top earner?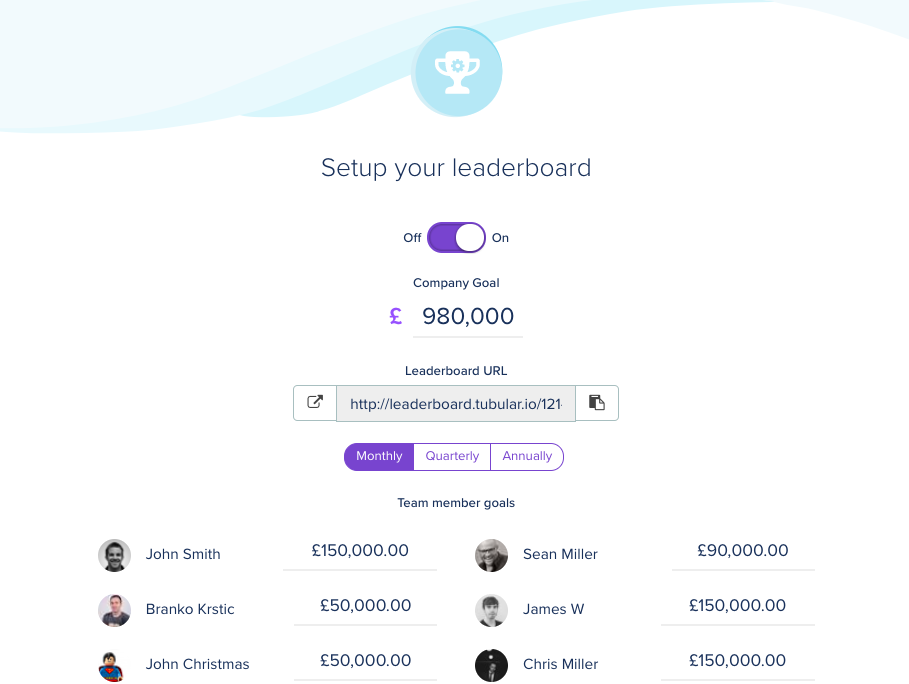 In our opinion, interactive leaderboard beat the visual platform Pipedrive.
What do you think?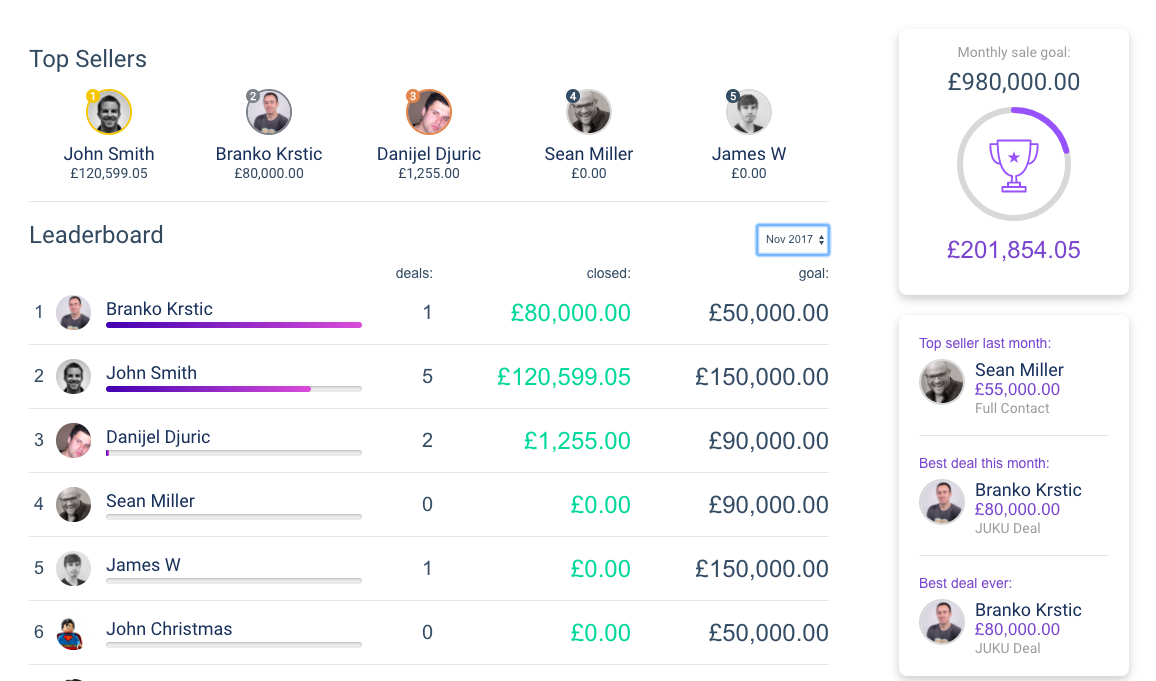 Why don't you book a call with Tubular and see how we can help you set up your Sales Leaderboard?
Tasks
More and more sales teams are functioning on-the-go. This is great. For a long time at Tubular, we advocated that sales teams need to spend less time in their software, and more time selling and less time on data entry for their CRM. This is why we believe a transparent overview of up-coming and overview tasks is the best platform to get your team humming through their tasks and pushing clients through your sales funnel.

Book a demo
At Tubular we believe teams respond better to visual incentives, transparent communication and collaboration in order to close sales.
To learn more about how to migrate your team and existing data from another CRM onto Tubular feel free to book a call below.
---