Still managing your sales and business dev through Email and Excel spreadsheets?
That's fine. There's nothing wrong with manually handling this process, but it can turn something that's relatively simple into a real pain. If sales are just one feather in your cap during your daily sales cycle, how can you separate this from your other work and focus on your core business? Or what happens if you need to scale up and more than one person is managing sales? Or what if your startup has just secured a series A investment round?
You and your staff are now chasing sales and deals across multiple inboxes and email addresses.
You're finding it difficult to hunt down the right emails from the rest of the junk.
Some correspondence is missing.
You're handling multiple opportunities through one contact and finding it difficult to keep track due to crossover.
There's been a lot of frustration over email the last few years, with Chat tools as one solution, so people are focusing less time on email and more time on being productive. To some extent, this has been successful.Email doesn't need to be the go-to tool for all your communication  (our friends at Slack claim a 32% increase in productivity! However, email is still one of the most robust channels of communication in business, particularly when you're looking beyond in-house communication.
On the flip side, many CRMs rely on email too much, requiring you to sync your whole email account with software before you can get started. How do you continue to leverage the pros and minimise the cons when it comes to email and your sales process?
Be selective. Don't dump your whole inbox and address book into your sales software or CRM and end up in a bigger mess than when you started. Make sure you filter this down to only your active contact list before you do this.
Focus on the deals. If one contact has a number of deals on the table, you need to find a way to keep track of them all.
Avoid the dreaded, 'No Results Found' inbox search. This can take chunks of time out of your day.
What if you could easily see the emails relevant to a particular deal and see them in context without needing to sync your whole email account?
At Tubular we thought long and hard about how to work best with email. We wanted to develop something that was non-intrusive, flexible and easy to use.
That why we came up with our BCC Feature. In Tubular each deal you create is automatically assigned its own email address.
You can choose to copy this address into the BCC or CC line to field any email correspondence. By doing so, the email automatically gets added into your deals timeline.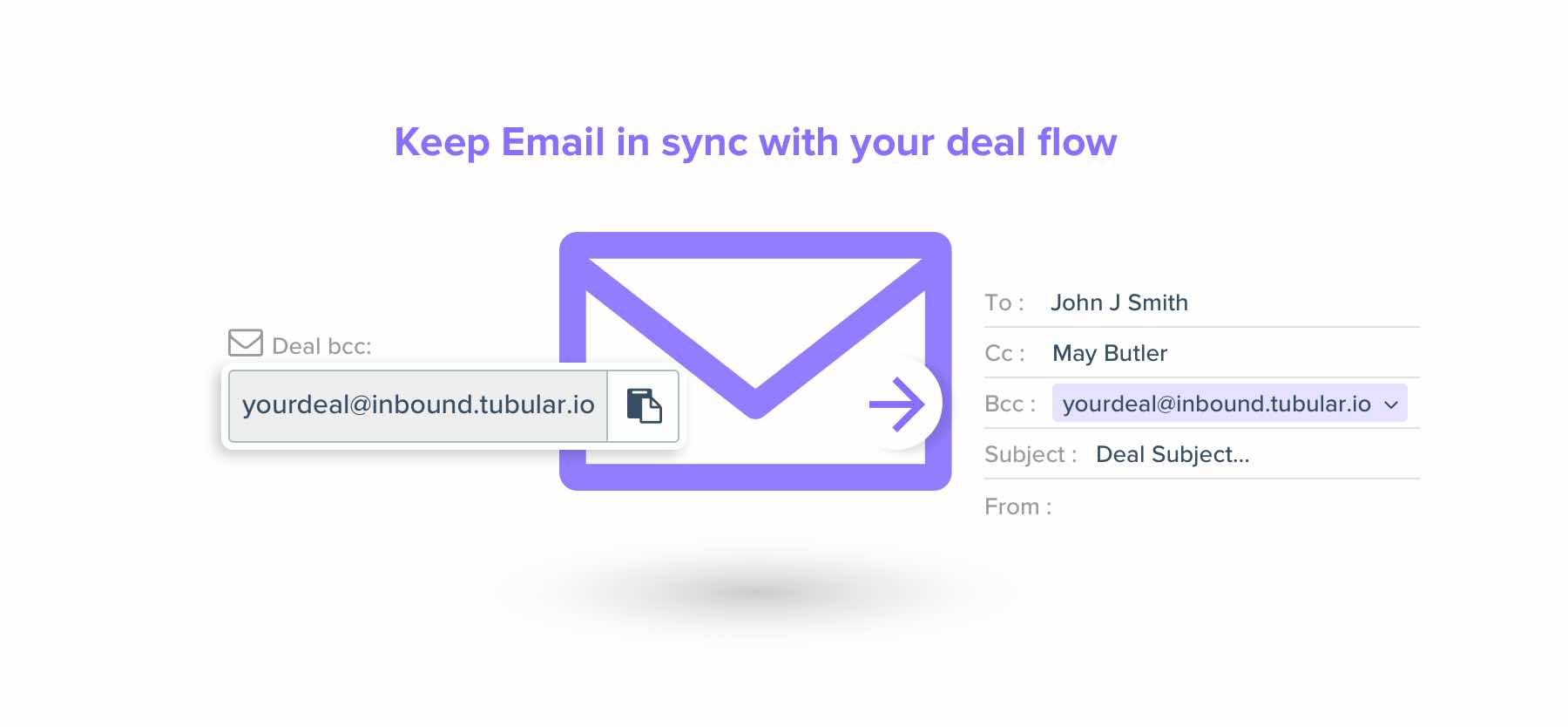 The benefit means only the emails you really need are displayed in each deal, nothing important gets missed, and you don't need to search back through multiple inboxes for missing info. Correspondence is easily traceable and there is no mix-up between different team members as you can clearly see within the deal who sent the email to whom and when.  
To find out more ways Tubular can help you, visit us online or get started with a 14-day free trial today!

---