This is something I am really excited to announce, our official Integration with Zapier, which means that Tubular now connects with over 1,000 apps!
For those of you that know Zapier, you will know how much of a great tool it is, you can literally integrate any app with another, or with multiple apps from their repository. What this means for Tubular is that Zapier now enables us to integrate with over 1,000 apps. You can literally create Leads and Deals from anywhere, you will never loose a Lead again!!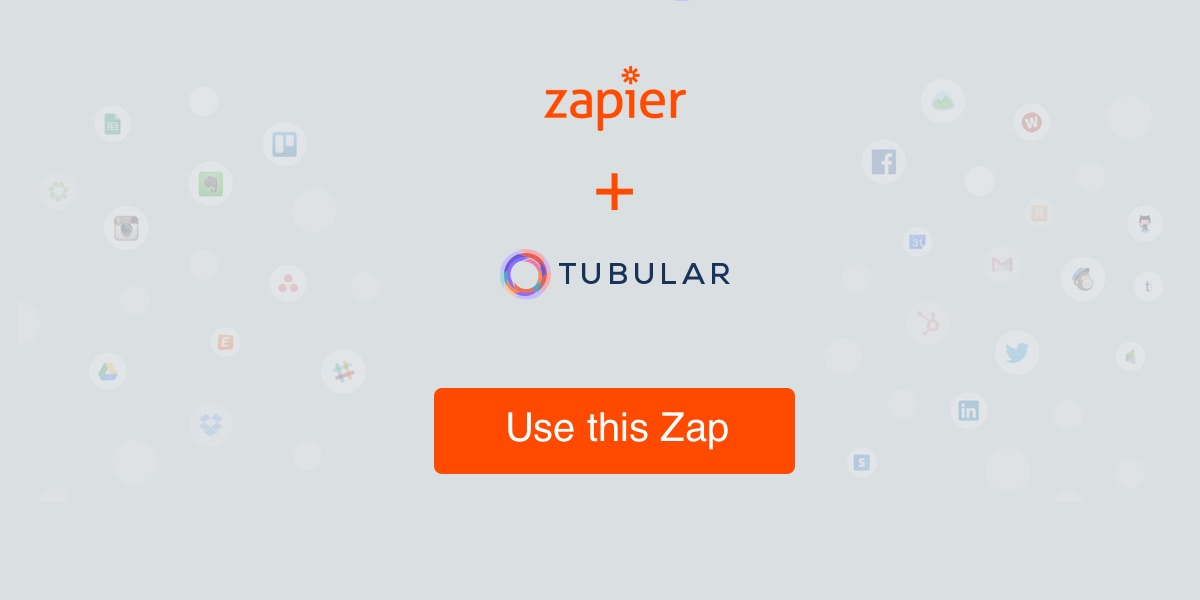 Firstly let me show you where you can find our dedicated Zapier Page
We now have a dedicated Zapier page in the setting Menu, just click on the toggle in the top right hand side, the drop down will appear and you will see the Zapier icon and name. click on this to open the page.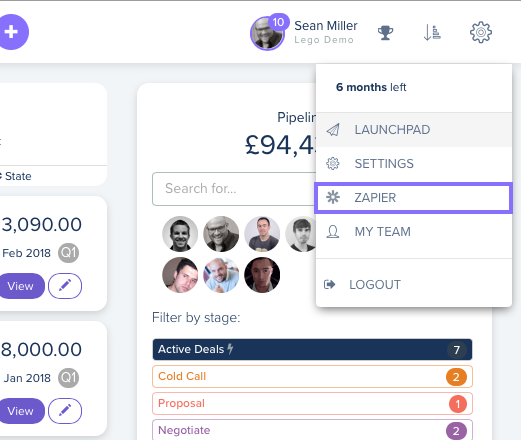 We are going to be adding pre made "Zaps" to Tubular each week so keep checking back in the setting menu for the latest updates.

Here are some Examples of how you can use Zapier and Tubular 
There are so many Zaps it would be difficult to list them all, on our Zapbook page you can search over 750 apps that integrate with Tubular : Click here for our Zapbook 
But we have created some "Quick Zaps" which are ready for you to use straight away.
Google Sheets 
There's no need to export your spreadsheets by hand all the time — we can take care of it for you. Once this integration is fully configured, Zapier will automatically create a new lead in Tubular from the information added to every new row on a Google Sheet, saving you from having to do it yourself.

Autopilot 
If you're trying to convert leads more efficiently, this awesome automated Zap can help. Whenever a new contact is added in Autopilot, creating a matching lead for them on Tubular to help your sales team stay focused on the right relationships.

Calendly
Keep track of potential leads who schedule calls with you without the hassle of copy and pasting. Whenever new invitees in Calendly schedule a meeting with you, this integration will automatically convert those invitees into a lead in tubular – Bonus !

Intercom
Using Intercom to communicate with users but want to track them as leads in Tubular? Use this integration to create leads in Tubular every time a new contact is added in Intercom. Easily convert your contacts to leads with this Zapier integration.

How to create your own Zap in Zapier
The above templates can be found in our Zapbook or inside the new settings menu within our app. But how do you create your own Zap ? Thanks to the awesome team over at Zapier its really easy !
Let me show you :
Step 1
Login to your Zapier account, if you dont have one you can set up one for free here.
When you logged in click "MAKE A ZAP!"
Choose your Trigger App
First you'll pick the app that you want to start the Zap. Enter the app's name in the search box.
Choose your Trigger
Pick the specific Trigger for the app from the list of options provided.  With our example we are using Typeform, this might be "new form entry"
Connect your App
(You will need your trigger app login details) A pop-up will appear, prompting you to authorize Zapier to connect to the app. Then click : Save + Continue.
Edit your options
Test your app.
Click the "Fetch & Continue" button to make sure the Trigger works. Wait for the success message before you proceed to the next step.

Step 2
Choose the Action App
Search for the name of the app you want the action to be applied to. In our care this would be Tubular !
Choose your action
Connect to your Tubular account. If you do not already have Tubular connected a pop-up will appear, prompting you to authorize Zapier to connect to Tubular. Then just click "Save + Continue."
Set up the Template ( Customise )
Click on the dropdown boxes or the plus (+) sign on the righthand side of every field to tell the Zap to pull in data to Tubular from the Trigger step.
Test
Name and save your "Zap"
If at any point you need help getting started from your Tubular account? The just reach out to us on Support, as always we are more than happy to help !
Not sure where to start ? Head over to Zapier and browse hundreds of potential Integrations on Zapier.
The awesome team at Zapier also wrote a blog about Integrating with Tubular, you can read that here.
Happy Zapping !
Sean & The Tubular Team

---