This time last year the Tubular team ran in to Matt Hammond at WebSummit in Ireland. At the time FullContact stated they were on the path to solving the worlds contact problem. Since our meeting its been really exciting to see how FullContact have grown exponentially as a business in this year. This week we caught up with Matt Hammond, Director of API Sales and Operations at FullContact for a brief catch up.
Here is what he had to say.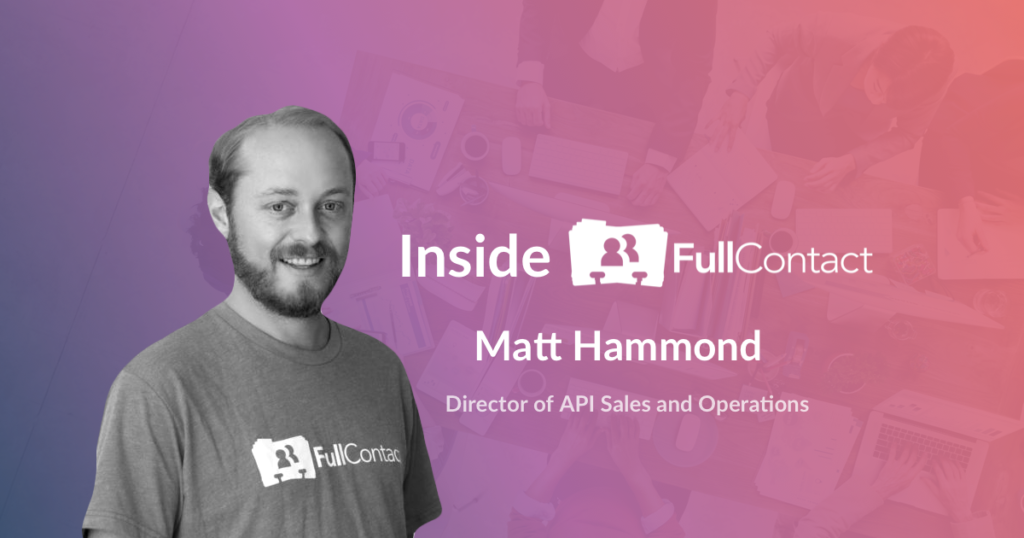 With Web Summit just around the corner, its been almost a year since we first met. I think you are at the stage where you have had to be under a rock to not have heard of FullContact, but for those who haven't, briefly give us the overview of FullContact.
Matt: At FullContact our goal is to solve the world's contact information problem.  If you think about it, keeping contact info ordered while understanding how individuals and groups connect is a challenge for pretty much everyone using technology.  Individuals struggle to connect all their different networks like Gmail, Outlook, LinkedIn, and phone contacts.  Teams of people have a hard time sharing up to date contact info as well as understanding the strength of people's connections.  Software companies often administer static databases with decent contact info, but no social context whatsoever.  And finally, the biggest brands in the world do a great job of understanding their customers in the store or online, but have no clue who consumers are as human beings.  FullContact fixes all these problems.  That's probably the most exciting part about working for FullContact–the scale of solving the world's contact information problem and the fact that we really can help pretty much everyone.
News wise the last few months has been manic, a major capital injection, 
investment in Conspire and

Profoundis, 

so without giving the game away, where next?

 

Matt: Onward and upward.  We've done an outstanding job acquiring companies that compliment our technology, but just as important–we've absorbed incredible human talent to augment our fantastic team of people.  We've successfully made a huge splash in the world of B to C brands, and are working with some of the biggest companies in the world to put their first party data on steroids.  We've inked massive partnerships that continue to drive channel revenue.  We've invested heavily in the FullContact consumer app and have incredible growth goals we're executing on.  And we've launched an amazing beta release of the FullContact for Business app, which helps SMBs manage contact info, and large companies make their CRM and contact database systems better.  We'll continue to scale all of these efforts and you'll just have to give us a call, swing by our booth at a show, or pay attention to the news to see what comes next!  We have so much more on the way.
Getting 

back to FullContact, can you describe your funnel process, typically 

how you acquire customers and businesses ?

 

Matt: Great question, and a major strength of our forecasting methodology and sales and marketing process.  We leverage many of the traditional methods of customer acquisition–omni-channel marketing outreach and advertisement, heavy investment in the worldwide tech-conference circuit, and an incredible network of users and customers who tend to love making introductions.  With that being said we also invest heavily in good-old-fashioned prospecting efforts.  Our business development team is the most professional, productive and proficient I've ever seen, and as a result our sales team is never lacking a full calendar.  All of this feeds unique sales processes focused on customer segments, supported by a forecasting methodology based on objective qualification criteria.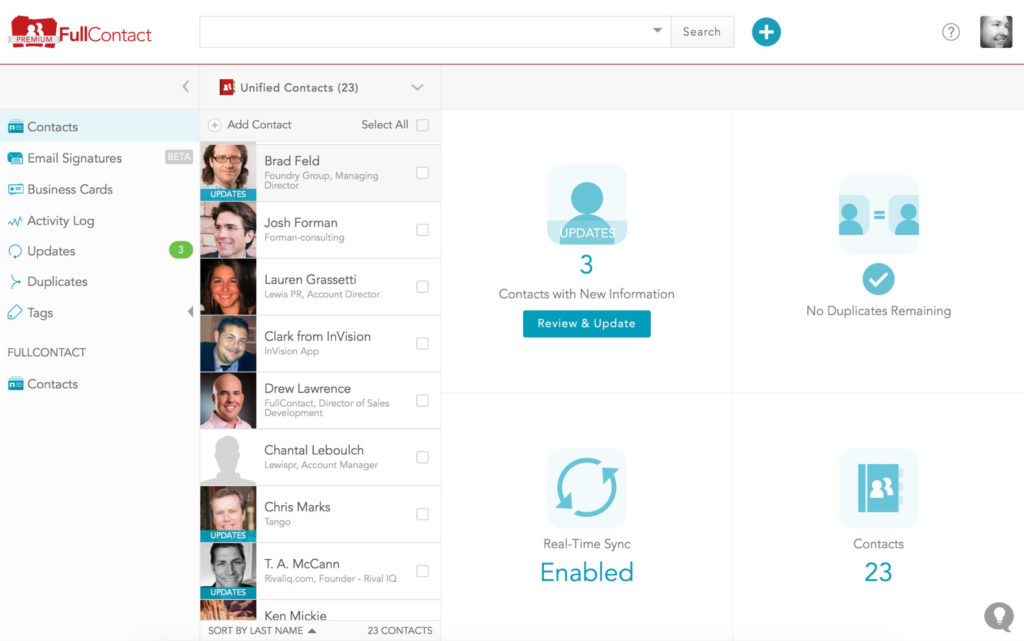 As 

you know Tubular is simple sales pipeline software, give us an insight 

into your top sales tips.

 

Matt: Most sales leaders combine forecasting values with sales stages.  Our process makes the two mutually exclusive.  Forecasting is an internal story based on objective fact that communicates to your CEO, CFO and, board the value, likelihood, and timing of closing a deal.  Stages should be based on where your prospect or customer is at in their buying process.  Understanding the difference helps you keep deal momentum, while setting realistic expectations internally.  The former is key to hiring and building an effective sales team.  The latter is key to hiring and building a word-class company.
You 

specialize in software sales, software does take time to implement, how do you deal with those impatient customers?

 

Matt: We're lucky at FullContact in the sense that our technologies tend to be pretty plug and play. With that being said, as we've climbed the ladder and begun deploying complex solutions to enterprise companies, we've adapted.  We have an incredible solutions team at FullContact that does a ton of heavy lifting during complex implementations, and as a result, time to value is one of our major strengths.
Away 

from business, what apps and tech gadgets are you loving at the moment ?

 

The best app I've come across recently is called AllTrails.  It delivers detailed information on hiking and four-wheeling trails all over the world, and has great offline functionality for when you're deep in the woods.  I've also recently joined the "smart-home" train, making several hardware and software upgrades to my 110 year old house in Denver through a company called Vivant.  I think my favorite piece of technology though is a good old fashioned book…I will never use an ereader!

Find out more about FullContact here: 
---